Depuis quelques jours, les autorités américaines se lâchent contre Wikileaks. Selon elles, le site n'aurait pas du diffuser ces documents qui, tout le monde l'aura compris, participent au débat démocratique naturel sur la participation du pays à une guerre.
On peut diserter sur les méthodes et les buts poursuivis par wikileaks, mais ce qui est intéressant, c'est de voir que les Etats-Unis mentent en disant que Wikileaks n'aurait pas du publier ces documents.
Et pour le prouver, Kitetoa.com va dévoiler à son tour un document de l'armée américaine. Selon ce document signé de Paul Wolfowitz, ancien vice ministre de la défense, il était impératif que les armées américaines conservent tous les documents possibles sur l'opération en Irak. Pourquoi ? Parce que "les archives historiques du département de la défense maintenues durant les précédentes crises sont d'une grande importance historique pour les Etats-Unis et le monde et ont été indispensables pour rendre compte au peuple américain, de manière complète, précise et objective des activités du gouvernement".
On se demande pourquoi il en irait autrement pour les informations collectées au cours d'une autre guerre...
Dans ce courrier, Paul Wolfowitz demandait à l'armée de conserver tous les documents possibles sur tous les supports possibles et imaginables.
Voici donc ce document :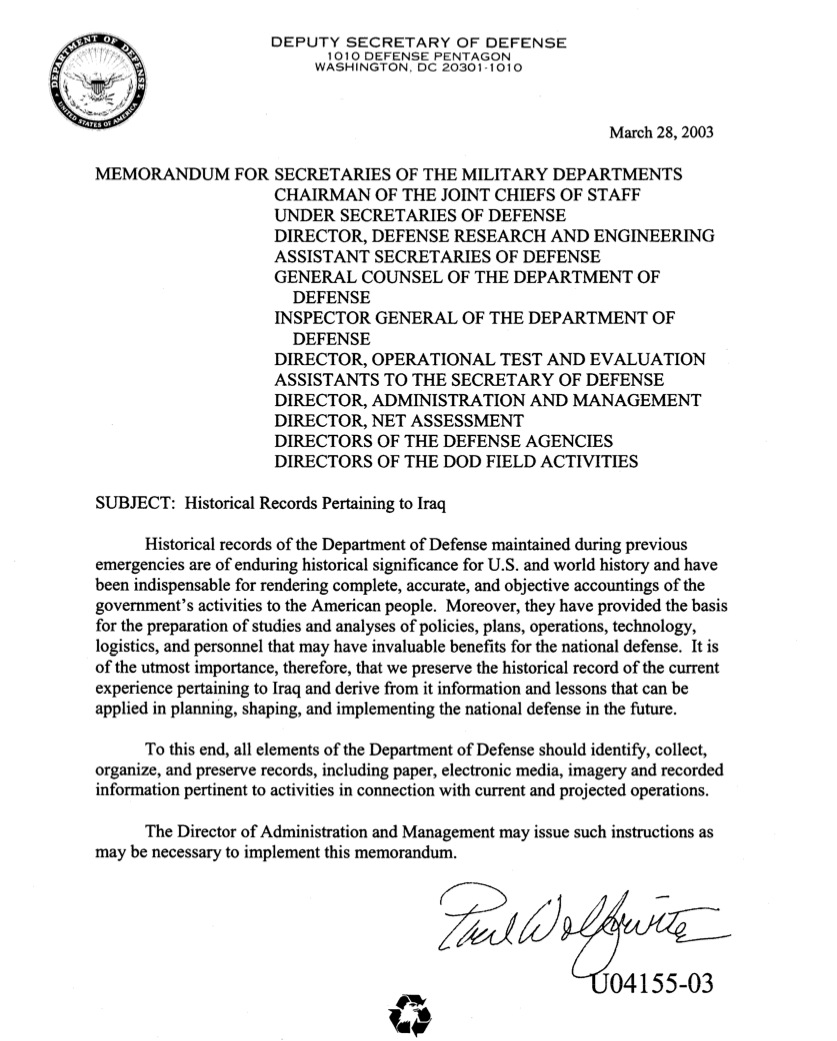 Les documents de Wikileaks démontrent, dit la presse, que la guerre est loin d'être gagnée.

Pourquoi ? Pensait-elle, cette presse, notamment française, qui ne s'inquiète pas de la participation française à ce conflit et laisse le président de la république, Nicolas Sarkozy appliquer un couvercle de silence sur notre implication, qu'elle pouvait être gagnée ?

Chez Kitetoa, il se trouve que nous pensons depuis le début des opérations de lutte globale contre le terrorisme, c'est à dire les guerres en Afghanistan et en Irak, qu'elle ne seront pas gagnées. Mais surtout, que les relations internationales ont été ravagées par ces conflits. Merci M. Bush. Merci M. Obama de continuer ces aberrations.

Pour dire cela, nous nous basons bien entendu sur le bon sens, sur une perspective historique et sur une vision du combat particulière : il est impossible de gagner une guerre d'occupation, surtout dans un pays où les combattants ont un niveau de rage 1 million de fois supérieur à celui des envahisseurs.

Mais nous nous basons également sur nos propres documents officiels pas tout à fait publics qui n'ont rien à voir avec ceux de Wikileaks mais qui sont également puisés à la source.

Que nous disent ces documents ? Ils nous disent que les réseaux de communication de l'armée américaine sont un bordel monstre, pas du tout efficace, que les deux conflits ont bouffé toute la bande passante, que quelle que soit le niveau de la technologie avancée utilisée, l'armée américaine parvient à déscendre ses propres troupes depuis le début, et on en passe...

L'armée américaine est un super tanker et même lorsqu'elle planche pendant des années sur un sujet, elle ne parvient pas à le résoudre.

Prenez l'exemple de ce document qui révèle qu'elle travaille sur le porblème des tirs amis depusi Desert Storm :
Avec le succès que l'on sait...
Autre exemple... Lorsque les US décident de donner accès à Iridium (EMSS), voici ce qu'en disent des patrons américains de l'armée dans un mail : "A couple of weeks ago, we went through a goat rope trying to get Iridium handsets to the Brits. As Wg Cdr xxx points out, the success of making this happen was directly attributable to personalities and not processes. xxx believes we need to take advantage of the valuable lessons learned in making this provisioning happen and establish a clear process with clear delineation of responsibilities so that the next time we need to provision to one of our coalition partners, we aren't as screwed up as "Hogan's Goat." Attached is Cdr xxx proposed solution, or starting point for a solution. As he states, "The key features of the new process need to address the areas that caused greatest difficulty in providing EMSS service to the UK i.e. a lack of a single US advocate for the request; no timely identification of who could/should authorize the request; unclear legal authority to provide the service; and difficulty in actually paying for the service."
Les difficultés auxquelles sont confrontés les militaires américains sont par exemple résumées ici :
SHORTAGE OF STRATEGIC/OPERATIONAL TRANSPORTATION ASSETS AND ENROUTE BASING INFRASTRUCTURE. THE LACK OF AVAILABLE STRATEGIC TRANSPORTATION CAPABILITY ASSETS AND INTRA-THEATER AIRLIFT ASSETS IS THE NUMBER ONE CONSTRAINT TO MANAGING DEPLOYMENTS TO MEET THE SUPPORTED COMMANDER'S DEPLOYMENT TIME-LINE. DOD NEEDS MORE ACTIVE FAST SEALIFT SHIPS, STRATEGIC AIRLIFT AND ASSOCIATED PERSONNEL. EUCOM'S USAFE AMOCC NEEDS MORE C130 TRANSPORT AIRCRAFT AND ASSOCIATED PERSONNEL. THE INADEQUATE INFRASTRUCTURE AT KEY ENROUTE AIR BASES (MOG, BILLETING, FUEL) IMPAIRS THE THEATERS' ABILITY TO MEET THE SUPPORTED COMMANDER'S TIMELINE BY COMPLICATING THE MANAGEMENT AND SYNCHRONIZATION OF ONWARD MOVEMENT OF DEPLOYING FORCES TO FINAL DESTINATIONS. 1.B. THE LACK OF TECHNOLOGICAL TOOLS WHICH WOULD ALLOW LIFT PROVIDERS VISIBILITY OVER AVAILABLE TRANSPORTATION ASSETS DOD-WIDE, AND THE PROCESS BY WHICH LIFT PROVIDERS CAN COORDINATE THE MOST EFFICIENT AND EFFECTIVE MODE AND SOURCE OF TRANSPORTATION. THE SUPPORTED COMMANDER DOES NOT CARE HOW HIS FORCES MOVE AS LONG AS THEY ARE AT THE DESTINATION BY THE REQUIRED DELIVERY DATE FOR EMPLOYMENT. USING THE CURRENT SYSTEM (JOPES TPFDD), THE SUPPORTED COMMANDER IS REQUIRED TO DETERMINE "PREFERRED MODE AND SOURCE OF TRANSPORTATION", WHICH LIFT PROVIDERS THEN FILL. THE SUPPORTED COMMANDER IS NOT THE MOST QUALIFIED TO DETERMINE THE MOST EFFICIENT AND EFFECTIVE MODE AND SOURCE OF TRANSPORTATION OF HIS FORCES. THIS IS THE MISSION OF THE LIFT PROVIDERS. WE MUST IMPLEMENT A PROCESS AND BUILD THE SUPPORTING INFRASTRUCTURE TO ENABLE THE LIFT PROVIDERS TO MAKE THESE DECISIONS. IMPLEMENTATION OF SUCH A PROCESS WOULD ALLEVIATE SOME OF THE PROBLEMS ARISING FROM THE SHORTAGE OF STRATEGIC LIFT ASSETS. 1.C. LACK OF INTEGRATED COLLABORATIVE PLANNING DOD WIDE. THE JOINT OPERATION PLANNING PROCESS IS ANTIQUATED AND SLOW TO RESPOND TO TODAY'S JOINT OPERATIONS. THE REQUIREMENT IS FOR A PLANNING SYSTEM WHICH CAN ADAPT TO A RADICALLY COMPRESSED TIME-LINE, AND IN WHICH PLANNERS WITHIN THE VERTICAL AND HORIZONTAL PROCESS CAN COLLABORATE QUICKLY AND EFFICIENTLY. THIS SYSTEM MUST PROVIDE QUICK TURNS ON ORDERS AND OTHER JOPES DOCUMENTS AS WELL AS STREAMLINING THE COMMUNICATIONS BETWEEN ALL ECHELONS OF COMMAND. ONE OF THE BIGGEST CONTRIBUTORS TO THE PERCEPTION THAT "JOPES IS BROKE" IS ITS INABILITY TO RESPOND TO THE MILITARY DECISION MAKING PROCESS, IN WHICH THE PLAN CHANGES AND THEN CHANGES AGAIN FOR THE LIFE OF THE OPERATION. PLANNING DOES NOT STOP AT DEPLOYMENT EXECUTION; IT CONTINUES THROUGHOUT THE OPERATION AND INEVITABLY CHANGES IN RESPONSE TO EVENTS IN THE COMBATANT THEATER. 1.D. EDUCATION AND ADHERENCE TO PUBLISHED PROCEDURES. WE NEED TO DO A BETTER JOB EDUCATING OUR LEADERSHIP - FROM JUNIOR OFFICERS TO SENIORS - ON HOW THE ENTIRE JOINT OPERATION PLANNING AND EXECUTION PROCESS IS SUPPOSED TO WORK. EVERY SERVICE JOINT PROFESSIONAL MILITARY EDUCATION ESTABLISHMENT MUST REQUIRE STUDY OF THE JOPES PROCESS FROM NOTIFICATION OF AN EVENT THROUGH COA DEVELOPMENT AND EMPLOYMENT OF FORCES TO MISSION COMPLETION. TRANSLATING JOINT DOCTRINE INTO SERVICE DIRECTIVES WOULD BE A GOOD STEP, AS WOULD ALL OF THE SERVICES DESIGNATING OPERATION PLANNING AND DEPLOYMENT EXECUTION AS A CAREER FIELD. IF THE COMPANY COMMANDER AT THE AIRFIELD DOES NOT KNOW WHAT A ULN IS, AND IF THE SUPPORTED COMMANDER DOES NOT UNDERSTAND THE IMPACT OF A PLAN CHANGE ON THE EXECUTION OF THE OPERATION, WE WILL CONTINUE TO EXPERIENCE DEPLOYMENT TURBULENCE AT EVERY ECHELON OF COMMAND. 1.E. THE TRANSCOM-CENTRICITY OF THE ADP WHICH SUPPORTS FORCE DEPLOYMENT PLANNING AND EXECUTION. NEARLY EVERY SYSTEM, FROM THOSE SUPPORTING TRANSPORTATION FEASIBILITY ANALYSIS TO THE WAY A TPFDD WORKS TO IN-TRANSIT VISIBILITY TOOLS, IS FOCUSED ON THE STRATEGIC LEG OF TRANSPORTATION AND THE MOVEMENT OF TRANSCOM-OWNED TRANSPORTATION ASSETS. WE NEED FORT TO FOX-HOLE THINKING. EVERY LEG AND EVERY MODE AND SOURCE OF TRANSPORTATION IS AS IMPORTANT AS THE STRATEGIC LEG IN MEETING THE SUPPORTED COMMANDER'S TIMELINE FOR TACTICAL EMPLOYMENT OF DEPLOYED FORCES. DEPLOYMENT AND SUSTAINMENT MUST BE COMBINED AS A CONSOLIDATED, INTEGRATED AND SEAMLESS PROCESS AND REAL TIME ITV PROVIDED ACROSS ALL MODES AND CENTRALLY AVAILABLE IN ONE LOCATION (VS CURRENT REQUIREMENT TO USE GTN, GDSS, GCSS, SMS, GCSS-A, WPS, AND GCCS).
Allez, encore un effort et on va la gagner cette guerre. Non ?
Non.
Et en attendant, ce sont plusieurs générations qui seront sacrifiées, en Afghanistan, en Irak, aux Etats-Unis et, dans une moindre mesure, dans les pays membres de la coalition.